Zachary Schreiber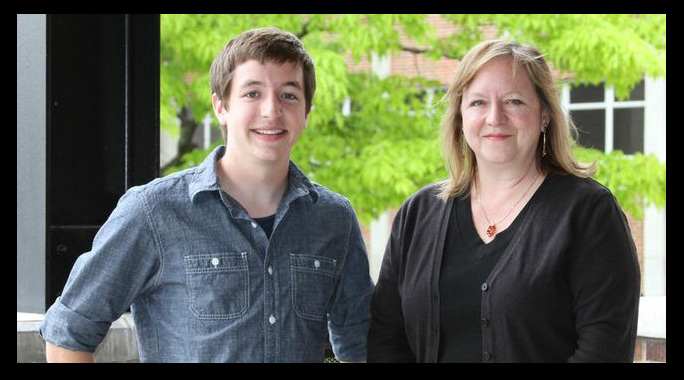 Zachary Schreiber with SURP mentor Dr. Elizabeth Putnam
School: Our Lady of the Lake University, San Antonio, TX
Major: Biology
Current Year in College: Junior
Mentor: Elizabeth Putnam
Project: The Control of Protein Production Related to Lung Fibrosis
School Awards/Honors
Providence Scholarship, a 4-year institutional full tuition scholarship
Honors Program Scholarship
Sister Elizabeth Anne Sueltenfuss Scholarship
Dean's List every semester
First place in the art competition for the university literary journal, "The Thing Itself."
Extracurricular Activities
I am currently acting president of Sigma Zeta, a national math and science honor society, and vice president of H.O.S.A, Health Occupational Students of America. I have also been involved as a member of Sigma Tau Delta, the English honor society, and the math society. With my fellow members of Sigma Zeta, we have made arrangements for monthly guest speakers at our university, organized fundraising for a trip to the Sigma Zeta National Convention, and revitalized the H.O.S.A. organization. With the recruiting of a diverse body of students, H.O.S.A. was revitalized in January of 2013 by the officers of Sigma Zeta and other students. We hope to use H.O.S.A. to support job shadowing for students, health awareness, and charities such as Relay for Life. In addition to these organizations and societies, I have been pursuing a minor in music with a concentration in piano.
About Zachary
The Center for Environmental Health Sciences' summer internship will provide an exciting opportunity to be involved with research concerning cellular responses to environmental stress factors, focusing on the control of protein production related to Lung Fibrosis. I intend to use the work I contribute to as the foundation for my undergraduate research. I am interested in this unique opportunity to be exposed to professional, research-grade laboratories.
In the past year, I have studied transcription factors and cellular responses to oxidative stress, and now I would like to expand my understanding of cellular responses to include other stresses including causes of inflammation and toxicology. This summer will provide solid direction toward a particular component of cellular biology that will further my undergraduate research achievements and narrow my concentration on potential graduate school programs.
For more information about SURP, please visit: http://cehsweb.health.umt.edu/education/summer-programs/surp
For more information about the Center for Environmental Health Sciences, please visit: http://cehsweb.health.umt.edu/