Emilie Jacobsen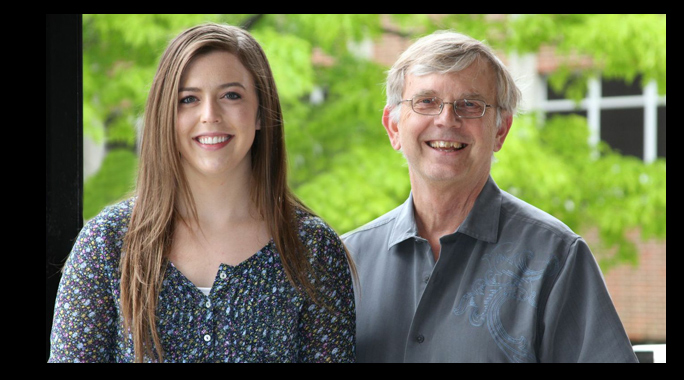 Emilie Jacobsen and SURP advisor/mentor Dr. Andrij Holian
School: University of Montana, Missoula
Major: Microbiology
Current Year in College: Senior
Mentors: Andrij Holian and Ray Hamilton
SURP Project: Optimizing Assay Conditions for the Usage of Murine Macrophage Cells to Visualize Inflammasome Formation using Engineered Nanomaterials
School Awards/Honors:
Member of the University of Montana Davidson Honors College

Presidential Leadership Scholar

Freshman Chemistry Achievement Award at the University of Montana 2011
4.0 GPA list: 5 semesters

Dean's List: 6 semesters

Member: National Honor Society
, Golden Key Honor Society
, Alpha Lambda Delta Honor Society, Phi Kappa Phi Honors Society
Extracurricular Activities:
Volunteer at American Red Cross
Student Mentor for Introduction to Honors course at Davidson Honors College
Division of Biological Sciences Peer Advisor at the University of Montana
Cruise 4 Kids fundraiser
About Emilie:
As an aspiring medical student hoping to one day become an expert in the medical field, I am very interested in learning about and researching the effects of the physical, biological and chemical environments on human health. Studying microbiology at the University of Montana, I have a very strong background in the sciences and have excelled in all classes both within my major and outside of the scientific realm. I have had previous experience in research laboratories, spending two summers interning at the McLaughlin Research Institute in my hometown of Great Falls, Montana. There, I worked in the lab of Dr. Deborah Cabin, whose research interests included using mouse models to study the effects of genetic mutations of the brain protein alpha-synuclein on the development and severity of Parkinson's disease in humans.
At the end of each summer I presented my projects at a student research symposium.
 I truly enjoyed my experiences at the McLaughlin Institute and learned so much about the scientific research discipline. I feel that I gained confidence in the lab during my time at McLaughlin, and I am now ready to branch out into researching different fields of science. I believe that environmental health is a truly important area of study, especially in relation to my interests in the medical domain, including pulmonology and dermatology among others. Both natural and human made environments affect many aspects of medicine and I am very interested in researching these areas of knowledge.
This summer, I will be working with Andrij Holian and Ray Hamilton whose research interests include studying inflammasome activation in response to engineered nanomaterials (ENMs).
For more information about SURP, please visit: http://cehsweb.health.umt.edu/education/summer-programs/surp
For more information about the Center for Environmental Health Sciences, please visit: http://cehsweb.health.umt.edu/