Cara Saxon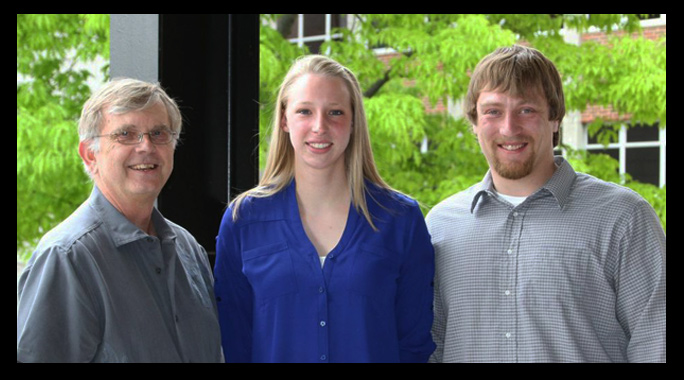 Cara Saxon with SURP mentors Dr. Andrij Holian and Kevin Trout
School: University of Montana, Missoula
Major: Exercise Science
Hometown: Gig Harbor, WA
Current Year in College: Senior
Mentors: Andrij Holian and Kevin Trout
SURP Project: Foreign Body Inflammatory Response to Nanofibrous Biomaterials

School Awards/Honors
Dean's List all 6 semesters of college
Anatomy and Physiology TA and a member of a cadaver dissection group
2010 Cross Country Academic Conference Champion
Robert O. Lindsay Scholar-Athlete Honors Banquet attendee 2011 and 2012
Western Undergraduate Exchange recipient
Washington State Council of Fire Fighters Benevolent Fund scholarship recipient (2010)
Ben B. Cheney Foundation scholarship recipient (2010)
Peninsula Family Medical Center scholarship recipient (2010)
Extracurricular Activities
Member of UM's cross country and track and field teams (2010-2012)
Pre-med club member
Job shadowed multiple doctors in the Puget Sound area
YMCA 4th grade girls soccer team coach
Volunteer at YMCA, Active 6 assistant
UM cross country camp mentor
About Cara
I have a variety of interests associated with biomedical research and it's value to medical advances. As a pre-med student majoring in exercise science, I've gained a fascination with the intricate systems of the human body.
My interest in the health field began when I first experienced the profound impact that a medical condition can have on an individual's quality of life. Growing up with severe allergies and eczema posed a number of challenges, not only physically, but socially and emotionally as well. I constantly wondered if there was a treatment to relieve my pain that maybe hadn't yet been discovered. These experiences sparked my interest in the study of allergies and the health care field in general. After taking anatomy and physiology in high school, I began to expand my interest of the human body and its complexities. When I came to the University of Montana and continued my cross country and track career, I decided to study exercise science as a way to combine my passion for athletics and medicine. However, after considering physical therapy as a career path and after completing a cadaver dissection course, I realized that my interest in human physiology spanned deeper than the musculoskeletal system.
I felt satisfied to use problem-solving and critical thinking to overcome unexpected challenges in the lab. I fell in love with studying human physiology and pathology. This was when I decided I would like to expand my lab experience and apply to the Summer Undergraduate Research Program to gain a wider range of research experience. I discovered a project that combines my immunology/inflammation interests with a rapidly growing technology that has great potential in the field of regenerative medicine. I am honored and excited to be working on a cutting edge reasearch project which aims to materialize these potential applications.
For more information about SURP, please visit: http://cehsweb.health.umt.edu/education/summer-programs/surp
For more information about the Center for Environmental Health Sciences, please visit: http://cehsweb.health.umt.edu/