Materials Science PhD Program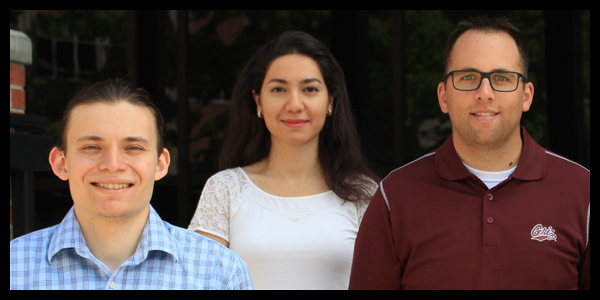 UM Materials Science PhD Program
Overview
The Materials Science PhD program is designed to provide students maximum flexibility with access to premier facilities and professors at three Montana campuses- the University of Montana, Montana State University and Montana Tech. The overall governance of the program is operated on shared responsibilities of the directors at each of the three campuses.

Participating students take a combination of real time student/instructor interactive classes using video conferencing with a blend of instructors from all three campuses.

Students applying to the Materials Sciences Program must first determine the campus that best suits their needs and interests. Once the choice has been made, the student then applies to that individual campus for admission.
Download the program brochure to learn more.
UM Faculty and Students
At the University of Montana, Dr. Andrij Holian serves as the UM Materials Science PhD program Director. He is also the Director of the Center for Environmental Health Sciences.
Research
Research specialties are focused in four areas:
Biomaterials
Electronic, photonic and magnetic materials
Materials for energy storage, conversion and conservation
Materials synthesis, processing and fabrication
The curriculum integrates a broad range of physical science and engineering disciplines with an even broader range of applications, from health and medicine to nanotechnology to energy, the environment and natural resources.
Faculty
Students
UM Application
To apply for the Materials Science PhD program through the University of Montana, visit the UM Graduate School website.

Applications for the program submitted by January 15 will receive preferential review.
Students with a background in other disciplines will be considered as long as required undergraduate prerequisites are met as described in the handbook and below.
Students who do not enter the program in possession of an undergraduate materials science degree are required to complete additional coursework to remediate deficiencies before they may enroll in certain graduate level courses. Deficiencies in the courses listed below (or equivalent coursework, as determined by the Admissions committee) including course prerequisites, must be remedied in addition to the graduate coursework.
Mathematics, Chemistry and Physics:
M 274 – Introduction to Differential Equations
CHMY 373 – Physical Chemistry (kinetics and thermodynamics)
PHSX 322 – Electronics for Scientists
Materials Science:
EMAT 251 – Materials Structure and Properties EMAT 351 – Fundamentals of Materials
Contact
If you have questions about the UM Materials Science PhD program, please email Paulette Jones, UM Materials Science PhD Program Administrator.